20 Nov

In Memoriam of Darryl Feemster

12 January 1962 / 19 November 2017

Update (25 Nov. 2017) A memorial service will be conducted at 11:00 a.m. on Friday, December 1, at Sparks Christian Fellowship, 501 Greenbrae Drive, Sparks NV 89431. SCF is located at the northeast corner of Pyramid Way at Greenbrae Drive on the east side of historic Greenbrae Center. Interment and reception information will be announced as details are finalized. Please watch this website.

RENO, NV (19 Nov. 2017; UPDATED 11-26-2017 GMT)— Nevada titan Darryl Feemster died Sunday morning at about 07:00 PST at St. Mary's RegionalMedical Center. He was admitted to the hospital's intensive care unit on Nov. 8 after being found unresponsive in his bedroom. He never regained consciousness after an apparent stroke. He was 55.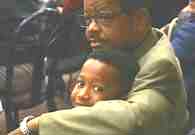 Reach out your hand
If your cup is empty
If your cup is full, may it be again
Let it be known
There is a fountain
That was not made
By the hands of men— Robert Hunter & Jerry Garcia
A Reno native, he was a longtime member of the Reno-Sparks NAACP and currently served on the branch executive committee.

"The year 2017 will be remembered as a time when we lost a gathering of giants," stated Patricia Gallimore, President of NAACP Reno-Sparks Branch No. 1112.
"The Feemster family has been the branch's bedrock for decades," she added.
"We will honor Darryl Feemster by building on his impressive achievements and using his legacy as a blueprint to guide us moving forward," she stated.
He was past retirement age but the City of Reno kept asking him to stay because of his value in senior citizen and youth services. The annual Senior Games was "his baby" among many other civic projects. He was the longtime City of Reno Youth and Senior Services Manager.
More than 20 years ago, he was instrumental in the construction of the stand-alone Duncan-Traner Community Library which serves not only the adjacent elementary and middle schools but is also open to the general public. His efforts kept the library open permanently despite two attempts to close it in recent years. It now serves northeast Reno neighborhoods with expanded hours.
He was briefly appointed to fill out a term on the Reno City Council but declined the opportunity to run for the seat. He was the brother-in-law of Washoe County School District Trustee Debra Feemster.
He is survived by his mother, Dolores, and leaves two sons, Darryl, Jr., and Marcus. He is further survived by sisters Lynette Cobb, Elaine Feemster, Carolyn Page (John), Janice Pickens and Cheryl Young; and brothers David Feemster, Sr. (Barbara); Gary, Lonnie Feemster, Jr. (Debra) and Robert (Tess).
He was preceded in death by his father, Lonnie Feemster, Sr., brothers James and Ronald, and daughter, Eboni. He leaves grandchildren and a large extended family.
.

BRAIN TRUST (6 Aug. 2015) – Save the Library Committee members leave the Aug. 6 organizational meeting at the Duncan facility. Clockwise left to right are library co-founder and Committee Chair Darryl Feemster, longtime Librarian Marilyn Jones, Mary Cooper, Don Gallimore Sr., Patricia Gallimore, Tim Feutsch, Andrew Barbano and two Gallimore grandchildren learning how to demonstrate at an early age. (Lonnie Feemster photo)